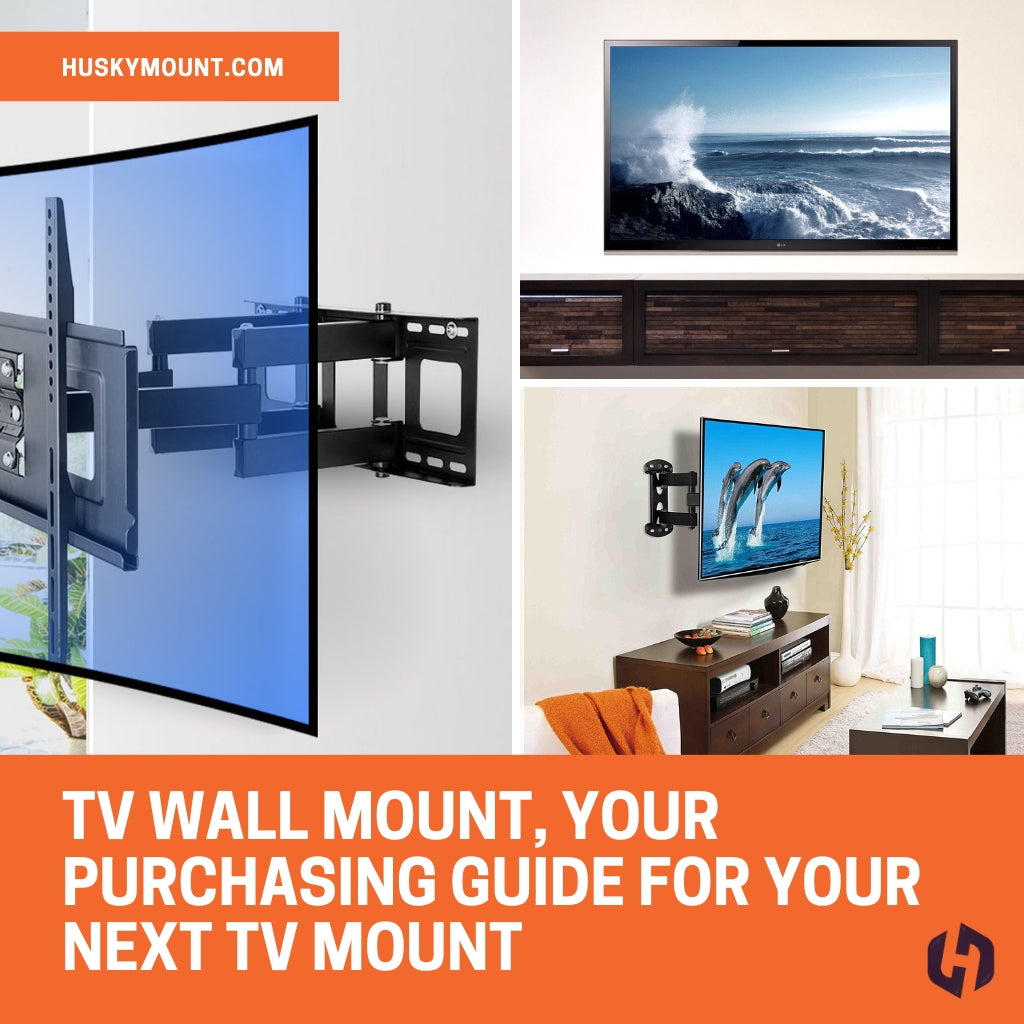 Why TV Wall Mount?
So you have finally decided it is time for you to purchase a TV wall mount for your new LCD or plasma television. A wall mount can give your home theater a nice and clean look, and also provide you with the best possible viewing experience. Let's face it, flat panel HDTVs look cooler when mounted up on the wall versus being sat on a TV console. Wall mounting is also an excellent way to conserve space by not needing a bulky console on the floor anymore. Nevertheless, a lot of HDTV owners still shy away from having their displays wall mounted, even if they wanted them that way. One reason is because they're afraid they might tear up their wall with ugly holes and make a mess if they try to do the job themselves. Another is that they refuse to pay what it costs to have a professional TV installer mount the TV for them.

Retractable corner mounts are probably the easiest to install on the wall because they require you to find only one wall stud in which to drill your bolts. Others require bolting into two studs, which means more measuring and drilling. Once installed, corner wall mounts allow you to adjust the TV screen in 3 dimensions - extending, swiveling and tilting. What makes this possible is a single retractable cantilever arm that holds the television on the front end and is attached to the wall mounting plate at the back end. With most models the arm has three pivoting points, which allow you to tilt and turn your HDTV in virtually any direction so that you can get a perfect head-on view of it from any position in the room. Also, depending on your seating arrangement, it may be better to position the TV in a corner of the room instead of mounting it flat on one wall. Retractable TV corner wall mounts allow you to do just that.


First thing to do is make sure you buy a corner-cantilever TV mounting kit that is compatible with the size and weight of your flat screen television. Then you need to gather all the necessary tools and materials for the job, such as a power drill, drill bit, stud bolts, stud finder, ruler or tape measure, pencil, bubble level, and a Phillip's head screwdriver. After you've done that and decided where on the wall you want to position the TV, it's time to get to work.

But before even worrying about installing your TV Wall Mount, which is much easier than you think, you need to learn more about a few important things to consider before purchasing a TV Wall Mount.
TV Wall Mount Purchasing Tips
VESA Requirements:
 VESA is the standard used by TV manufacturers for the mounting hole pattern on the back of your TV. The most common VESA mounting hole patterns are 75x75mm, 100x100mm, 200x100mm, and 200x200mm. These measurements are from left to right, and from top to bottom. You can refer to the user manual for your TV, or simply measure these distances yourself. Each TV wall mount bracket you look at will list their VESA requirements. Some mounts can even fit VESA mounting patterns up to 750x450mm.
It is also important to look at the size and weight of your TV. Quality mounts are made with heavy gauge steel plates, arms, and hardware. As a result, some can support as much as 200lb.
Personal Preference:
 There are a few different types of mounting brackets you can choose from.
Low Profile:
This type of mount sits on the wall like a picture frame would. It is unable to move around and usually has a small amount of space between the back of your television and the wall.
Ultra Slim Low Profile:
Which can sit even closer to the wall, giving you the sleekest look possible. 
Tilting Mounts:
A tilting mount has the capability to change the viewing direction up or down, usually anywhere from 5-15 degrees. If you would like the ability to change the viewing angle up or down, this mount is for you. 
Tilt & Swivel:
Like the tilting mount, this mount has the ability to tilt up or down, as well as swivel left to right. These are also referred to as corner friendly mounts because they are great if you need to mount your display in the corner of a room. These mounts can hang out much more than other mounts, and can also be pushed back against the wall.
Cables: 
Some people prefer to hide their cables from viewing for the cleanest look. Hiding the cables is actually very easy to do. There are mounts out there that come with sleeves you can run the cables through. You can also purchase a few wall plates that have HDMI, component, and audio inputs. Luckily for you, an HDMI cable provides both audio and video through a single cable. However, it is a good idea to go ahead and install wall plates for component and other common connections in case you might need them in the future. 
Your Wall Type:
 The most common type of wall has wooden studs for you to secure the mount to. You can use a stud finder to find out where the studs are located and lightly mark them with a pencil. If you have a concrete wall, there are concrete mounting anchors available for you to use. Some mounts may also include this type of hardware. 
Where:
 Finally, you need to decide where exactly you want to mount the television. For the best viewing experience, you will want to place the mount about eye level from the position you will be viewing from. You will also want to consider leaving space for surround sound speakers.
A flat panel tv wall mount is a great way to enjoy your new LCD or Plasma TV to the fullest. 
If you have more questions about purchasing or installing your TV Wall Mount please feel free to contact us.
Sep 07, 2018

Category:

Blog
Comments: 0